SHELTER TOOL KIT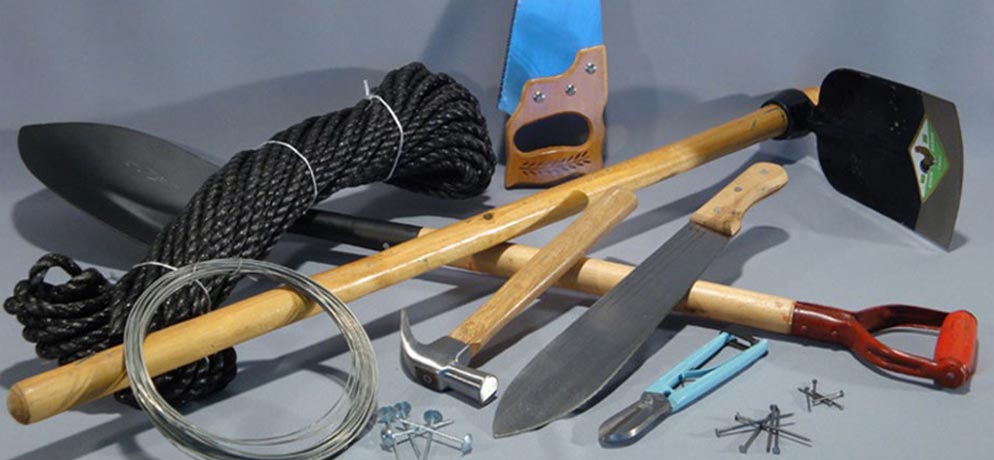 Shelter kits have been developed by various organisations, containing essential tools and materials to contribute to the construction of a basic household shelter or to facilitate rapidrepair of damaged houses. We supply tool kits as per UNHCR and Red Cross Specifications, but these can be modified as per the requirement.
The items in the shelter kit can be combined with existing materials such as tarpaulin, timber, bamboo and metal roof sheets to construct temporary shelters. They can be used to repair damaged houses. The tarpaulin and roofing sheets can also be provided.
The tools can also be used to dig drainage ditches, to build latrines, or to prepare the ground to support livelihood activities.
Components of Red Cross specification for Shelter Tool Kit are as per below:

1 x Rope, Polypropylene, Black, 12 mm x 30 m

1 x Rope, Polypropylene, Black, 3 mm x 30 m

1 x Handsaw

0.5 kg Nail

1 x Shovel, With Y Handle

1 x Hoe, With Long Handle

1 x Machete

1 x Shears

0.5 kg Large Iron Nail

0.5 kg Small Iron Nail

1x Tie Wire, Galvanized, 1.5 mm x 25 m, Roll

1x Claw Hammer

Curved Needle

Polyethylene Bag
Packing:
All items packed in a plastic bag, there after placed in carton.
Note:
The above set can be provided in different grades and packing as per requirement.